At Lutes Timber Mart we strive to give you the best service possible. With a strong team of long time members we have the knowledge and drive to help you get your projects completed with the right products at the right price. We believe having team members that know all aspects of the business and products gives us an advantage over our competitors. Meet the team that makes this all happen: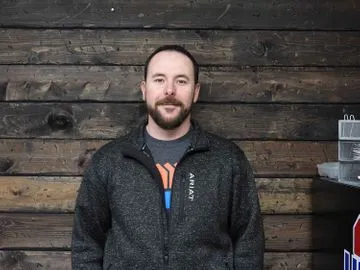 Travis grew up in the lumber industry following in the footsteps of his great grandfather, grandparents, father, uncle and cousins. It is safe to say the lumber industry is in his blood. In his younger years Travis worked after schools and summer holidays in the yard learning the business from the bottom up. After attending College Travis drove picker trucks and renovated the current store location from what was Synder's Auto Wrecking to what you see today. Once in the new location Travis brought the store up to date by implementing the use of a point of sale computer system. Travis then took basic and intermediate estimating courses alongside Jason in Winnipeg and has since then added well over a decade of estimating, site measurement and management experience to his skillset. Although Travis spends more time in his office than the sales floor these days he is a big believer in a hands on approach always working to create a better customer experience.
When away from work Travis serves as vice chairman if the Tirol Gas Co-Op, head coach of the Tilley Tigers initiation hockey teams, is a member of Brooks fish & Game. Travis enjoys hunting, camping and any other activities he can do with his wife and four kids.
Rochelle started with Lutes Timber Mart in 2009, growing up in a construction family she took to her new team immediately. Rochelle has completed both basic, and intermediate estimating courses with the WRLA and with several years of estimating under her belt you can be confident in her ability to give you an accurate cost on your next project. Rochelle also looks after the majority of hardware purchasing and the book keeping when needed. From mixing paint to estimating Rochelle has all angles covered!
Rochelle's time away from work is usually spent playing slow pitch, basketball and "supermom" to her two sons.
Brian has been with Lutes Timber Mart since 2015. Brian is a go to team member always happy to help customers, place special orders or ensure the show room and retail shelving are looking their best. Brian is also first to jump in a delivery truck when the extra hands are needed get the products to site on time.
Away from work Brian likes to spend time with the family, BBQ, listen to some classic rock, take the family dog for walks.
Jason came to Lutes Timber Mart in 2003. Starting out as a yard hand and delivery driver then working his way to yard foreman. Somewhere along the way he was convinced to get his class 3 license and was also responsible for running the picker trucks. Jason then made his way inside to a sales position and has completed his basic and intermediate WCLA estimating courses. With over 18 years of estimating and site measurement experience Jason can help you tackle projects of any size and complexity with ease.
Away from work Jason is heavily involved in the local baseball community. Jason took the lead in fundraising for the Brooks Regional Ballpark, played a key role in bringing the WCBL Brooks Bombers to town and still sits as President for them. Jason has a passion for getting kids into sports and has coached youth baseball and soccer for many years. Jason also volunteers his time for the Brooks Bandits home games, operating the video board and broadcasting booth on occasion. If that wasn't enough to keep a guy busy Jason also lends a hand when "told" to do so at his wife's dog rescue, Cleo's Karma Canine Rescue.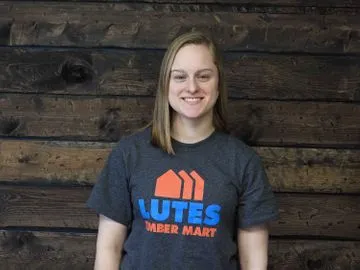 Amanda started with Lutes Timber Mart in 2015 after moving to Brooks from rural Ontario. Shortly after starting Amanda became known around the store as the Pintrest Queen with an amazing eye for color and design. Amanda spends a great deal of time bouncing between the floor covering and paint departments assisting customers to get just the look they want. Amanda also looks after the social media side of Lutes' advertising so when you see all the awesome color schemes and tile designs on our Facebook page you now know who's behind them. In 2017 Amanda completed her basic and intermediate estimating courses and has been a shed, deck and garage estimating machine ever since.
Away from work Amanda loves spending her time outside camping, hiking and in the winters – snowboarding. Amanda enjoys constantly renovating her home, DIY projects and cooking.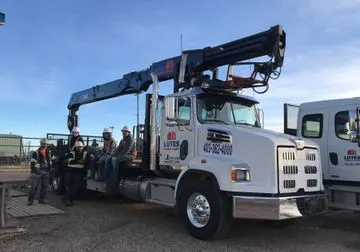 Our team of delivery drivers are the unsung heroes behind the scenes making sure your project goes along smoothly. They are skilled equipment operators from forklifts, to trucks to pickers they make sure the right materials make it to your job site at the right time. Working safely and efficiently in all kinds of weather our team of delivery drivers will provide you with the service you need to keep your project moving forward. By keeping our yard clean, organized and well stocked they will make picking up materials a breeze. No matter if you're picking up material by the car or semi load they will have you loaded and on your way back to the work site in short order!
Whether you're in need of lumber, insulation, drywall, windows, doors, floor coverings, paint, or hardware, our knowledgeable team is here to assist you. We strive to exceed your expectations with our exceptional customer service and competitive pricing. For any inquiries, orders, or assistance, please don't hesitate to contact us using the information below or by filling out the contact form.
20-6 ST E
Brooks, AB T1R 1C3